Remarkably bright creatures and remarkable young women – our summer reading choices are snappy, insightful, and, well, remarkable
---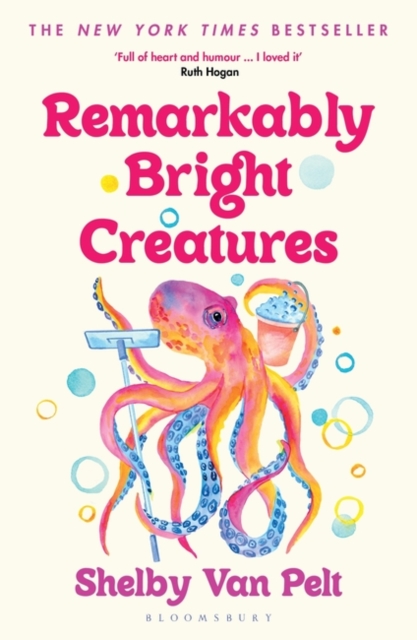 Paperback Fiction Pick:
Shelby van Pelt
After Tova Sullivan's husband died, she began working the night cleaner shift at the Sowell Bay Aquarium. Ever since her eighteen-year-old son, Erik, mysteriously vanished on a boat over thirty years ago keeping busy has helped her cope.
One night she meets Marcellus, a giant Pacific octopus living at the aquarium who sees everything, but wouldn't dream of lifting one of his eight arms for his human captors – until he forms a remarkable friendship with Tova.
Ever the detective, Marcellus deduces what happened the night Tova's son disappeared. And now Marcellus must use every trick his old body can muster to unearth the truth for her before it's too late…
---
We are always excited when a new octopus book appears. Whether it is fiction or nonfiction, if there's an octopus on the cover it is met with enthusiasm as it comes out of the box! So of course, Remarkably Bright Creatures was a no-brainer choice this month.
Shelby van Pelt has a talent for detailed and captivating prose that keeps you hooked, and unique, charismatic characters. The plot is intricate, with multiple tentacles (sorry) of narrative reaching out and entwining for a touching story and a well-crafted mystery.
The most important perspective of all has to be that of the titular remarkably bright creature, Marcellus. Not a lot of books have animal perspectives in a human narrative, and not enough of those are cephalopods!
Perfect for:
A lighthearted but meaningful read
A gentle analysis of grief and human behaviour (through the eyes of an octopus)
Readers who enjoy perspectives from unusual narrators
---
Hardback Fiction Pick:
Ariel Kaplan
Toba Peres can speak but she can't shout; she can walk but she can't run; and she can write in five languages… with both hands at the same time. Naftaly Cresques dreams every night of an orange-eyed stranger; when awake, he sees things that aren't real; and he carries a book he can never lose and never read.
When the Queen of Sefarad orders all the nation's Jews to leave or convert, Toba and Naftaly are forced to flee, but an unlucky encounter leaves them both separated from their caravan. Lost in the wilderness, Toba follows an orange-eyed stranger through a mysterious gate in a pomegranate grove, leaving Naftaly behind. With a single step, Toba enters an ancient world that mirrors her own.
There, she finds that her fate-and Naftaly's-are bound to an ancient conflict threatening to destroy both realms.
---
The Pomegranate Gate is an intricately woven tapestry, rich in folklore and history. Set across two worlds, it is a sweeping story that expertly explores themes of power, oppression, found family and the trauma of religious persecution.
The historical fantasy-adjacent lens makes for a compelling and engaging novel, with a Studio Ghibli-esqe whimsical introduction before the stakes begin to ramp up. The combination of Jewish folklore and the Spanish Inquisition-era setting makes for an incredibly unique book and an absolute must-read.
Perfect for:
Readers who love myths and retellings, but are tired of the Greeks
A rich and immersive narrative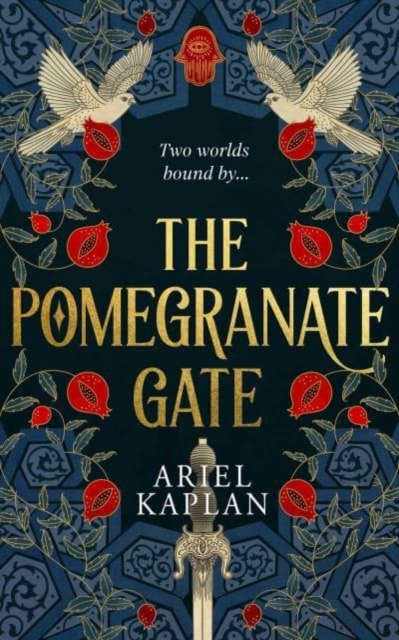 ---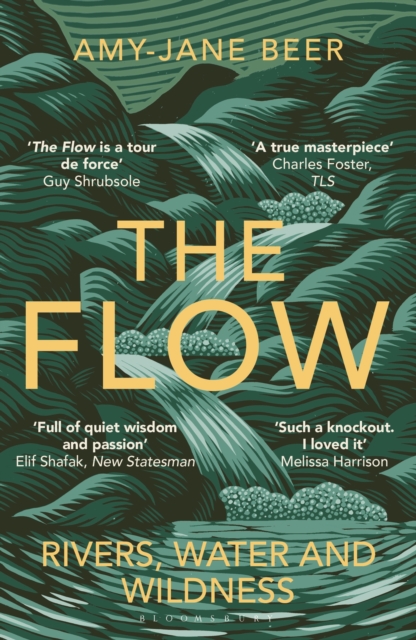 Paperback Non-fiction Pick:
Amy-Jane Beer
A visit to the rapid where she lost a cherished friend unexpectedly reignites Amy-Jane Beer's love of rivers, setting her on a journey of natural, cultural and emotional discovery.
On New Year's Day 2012, Amy-Jane Beer's beloved friend Kate set out with a group of others to kayak the River Rawthey in Cumbria. Kate never came home, and her death left her devoted family and friends bereft and unmoored.
Returning to visit the Rawthey years later, Amy realises how much she misses the connection to the natural world she always felt when on or close to rivers, and so begins a new phase of exploration. The Flow is a book about water, and, like water, it meanders, cascades and percolates through many lives, landscapes and stories. From West Country torrents to Levels and Fens, rocky Welsh canyons, the salmon highways of Scotland and the chalk rivers of the Yorkshire Wolds, Amy-Jane follows springs, streams and rivers to explore tributary themes of wildness and wonder, loss and healing, mythology and history, cyclicity and transformation.
---
The Flow is a study in healing and transformation in tandem with a poignant exploration of the wildness of water: rivers, streams, springs and rivulets.
In our humble opinions, the best non-fiction memoirs are the ones that feel tangible and relatable to almost anyone, but also teach you unfamiliar things about a familiar part of our world.
The Flow hits all of these marks, filled with nuanced essays and explorations of the nature and mythologies of tributaries alongside an intimate examination of human emotion and grief.
Perfect for:
Readers who enjoy factual books with a personal touch
Outdoorsy readers who are interested in understanding more
---
Hardback Non-fiction Pick:
Graveyard of the Pacific: Shipwreck and Survival on America's Deadliest Waterway
Randall Sullivan
Off the coast of Oregon, the Columbia River flows into the Pacific Ocean and forms the Columbia River Bar: a watery collision so turbulent and deadly that it's nicknamed the Graveyard of the Pacific. Two thousand ships have been wrecked on the bar since the first European ship dared to try to cross it in the late 18th century. Since then, the commercial importance of the Columbia River has only grown, and the bar remains a site of shipwrecks and dramatic rescues as well as power struggles between small fishermen, powerful shipowners, local communities, the Coast Guard and the Columbia River Bar Pilots – a small group of highly skilled navigators.
When Randall Sullivan and a friend set out to cross the bar in a two-man kayak, they're met with scepticism and concern. But on a clear day in July 2021, when the tides and weather seem right, they embark. As they plunge through the currents that have taken so many lives, Randall commemorates the brave sailors that made the crossing before him – including his own abusive father – and reflects on toxic masculinity, fatherhood and what drives men to extremes.
---
A blend of history, adventure, and personal biography unlike any other, Graveyard of the Pacific is uniquely fascinating.
As well as following through on the analysis of nautical history, Sullivan also explores his personal history and contemplates toxic relationships between fathers and sons.
Whilst attempting to kayak across the Columbia River Bar with his friend Ray – both in their 70s – they reflect on the impact of an upbringing amid parental violence and the influence it has had on their predilection towards difficult and dangerous activities.
Perfect for:
Anyone with an interest in nautical history and shipwrecks
Personal memoir lovers
A surprising and nuanced analysis of toxic masculinity
---
Young Adult Fiction Pick:
Joelle Wellington
Twelve girls. Three rounds. One ultimate prize… for the last one left alive.
Edgewater Academy is a school for the very rich and very powerful. Adina Walker is neither of those things. Alone and outcast, when she gets into a fight with a fellow student (and former friend), her scholarship to a top college is revoked, and her world falls apart.
Until she's invited to The Finish. Annual games for the brightest and the best, hosted by power-family The Remingtons, the winning prize for The Finish is everything Adina wants. This is her chance at the life she's dreamed of.
Then the contestants start to die. Love, revenge, pride – all are on the line. This isn't a game any more.
---
It's difficult to say much about this one without giving too much away, but take it from the author herself: 'First and foremost, before you read, heed this warning—this is not a mystery. This is not a contemporary tale of woe. This is not to be taken seriously.This is a satire.'
Built as a cautionary tale, Their Vicious Games is a story of survival in a world that you are not supposed to belong to. Adina is a likeable and charismatic character in a book filled with unlikeable ones, which successfully focuses her story and creates a stark contrast between her and the brutal world she is fighting to win a place in.
With evocative and descriptive writing and some searing critiques of society, I think this will be one of the hot must-read books of the year.
Perfect for:
14+ readers interested in political and thought-provoking satire through a fictional lens
Fans of Squid Game, The Hunger Games, The Inheritance Games
---
Children's Fiction Pick:
Her Majesty's League of Remarkable Young Women
Alison D Segert
Plots, spies and inventors abound in an epic adventure set between London and Paris…
Mischief is afoot, and Queen Victoria is not amused. Her stalker must be stopped.
Forget the cavalry – this is a job for Her Majesty's League of Remarkable Young Ladies! The League's newest recruit is Winifred Weatherby, a feisty girl-genius and gadget-maker. Winnie's creations are remarkable, but is she clever enough to protect the Queen – and achieve her own dream of winning the top prize in Paris for young inventors?
---
A fast-paced action-packed story perfect for adventurous younger readers!
Set in the Victorian era in both London and Paris, this is an exciting story filled with clever inventions, tricky puzzles, and a mystery to solve. Our main characters are smart and accomplished girls who use science and inventions, as well as a good deal of common sense, to get to the bottom of the mystery and save the day!
Perfect for:
Fans of mystery and intrigue books
Encouraging girls with an interest in STEM subjects
Great for confident 9+ readers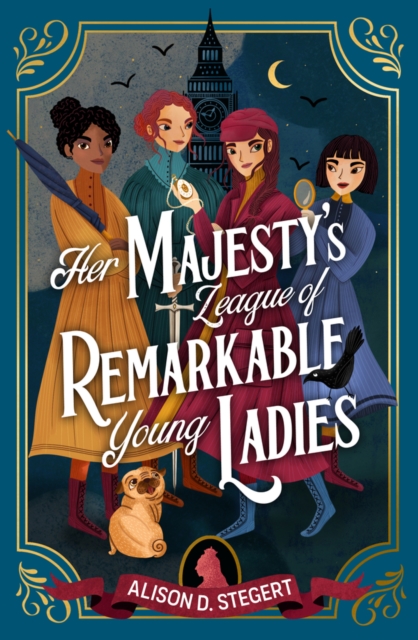 ---